Plastic Surgeon and Award-Winning Safety Innovator Dr. Chris Patronella Speaks Out on USA Today Hot Topic: Risks of Choosing Poorly Qualified Cosmetic Surgery Providers
Posted December 31, 2014 in Plastic Surgeon, Plastic Surgery Advice, Plastic Surgery News
No shortcuts to safety: Dr. Patronella warns fast-track cosmetic surgery courses are inadequate substitute for extensive education and training needed to perform cosmetic plastic surgery procedures safely, competently.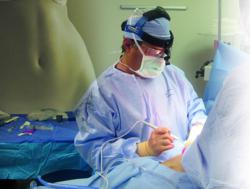 "The experience and education that comes from managing thousands of patients during the whole surgical process, along with the various related surgical and medical issues related to each stage simply cannot be replaced in a weekend course."
Houston, Texas (PRWEB) February 14, 2012
By Sherri Roberts
sherri@mybeautifulbody.com
A two-part series in USA Today documents what has become a hot topic and a growing trend: the increasing number of doctors who are drifting away from their chosen specialties to perform more profitably lucrative cosmetic plastic surgery procedures such as liposuction, breast augmentation, and tummy tucks. The rising popularity of cosmetic plastic surgery along with shrinking insurance reimbursements to physicians have fueled the trend, enticing both physicians and non-physicians to offer procedures which they may be poorly qualified to perform.
The lack of government regulation in this area—in most states a licensed doctor can perform any procedure and call himself a cosmetic surgeon, regardless of his training and background—has created a Wild West-like atmosphere in the industry, said Houston plastic surgeon Dr. Chris Patronella. Polished advertising, bargain prices, and seemingly trustworthy-sounding credentials can all attractively mask a provider who may lack the extensive education, training, and experience that are critical to performing these procedures safely and competently, making it "incumbent on patients to do their homework and understand these issues in order to make good choices," commented Dr. Patronella.
In the article, "Lack of Training Can Be Deadly in Cosmetic Surgery," USA Today reporter Jane O'Donnell documents the stories of patients who experienced botched results and sometimes deadly consequences after receiving cosmetic surgery from doctors who lacked the training, proper equipment, or understanding of anesthesia principles to safely perform the procedures.
Due to lax requirements, training of those offering cosmetic surgery can vary widely. Some have received their training from one of the many weekend cosmetic surgery courses that have sprung up around the country to meet the growing demand from doctors trained in other specialties such as family medicine, pediatrics, and dentistry. Many plastic surgery experts decry this "quickie-style" approach to learning cosmetic surgery, believing it to be dangerously inadequate to equip participants with the exhaustive body of knowledge, training, and experience that is necessary to perform surgical procedures safely and effectively.
"You cannot gain the critically important comprehensive understanding of anatomy that is necessary to perform these procedures safely unless you've seen it thousands of times—and you only get that from repetition and training—not a weekend course," commented Dr. Patronella. "Without this knowledge and experience, it is exceedingly easy to get into a situation where you don't understand the anatomy, and, consequently, an important structure in the body such as a vessel, nerve, or an organ is damaged," the surgeon added.
For Dr. Patronella, the topic of patient safety is a passionate career focus that has led him to receive some of the industry's most prestigious awards and recognition for his work related to the subject. The American Society for Aesthetic Plastic Surgery named his research paper, "Thromboembolism in High Risk Surgery," which focused on improving safety in high risk aesthetic surgery, the best Aesthetic Surgery Journal article of 2008. In addition, Ethicon, Inc—a Johnson & Johnson subsidiary—invited the surgeon to join a national board of advisors charged with the mission to develop safety and procedural recommendations regarding body contouring for weight loss patients.
Dr. Patronella commented that most plastic surgeons complete at least six to eight years of intensive surgical and plastic surgery training before they are in practice to perform the procedures on their own. While much of this training is related to learning the proper use of techniques, a heavy focus is also placed on recognizing and learning how to correct the potential complications of surgery in order to achieve a positive outcome.
"As part of the surgical training program, you learn the basics of surgery: surgical techniques, how to handle live tissue, recognize anatomy, avoid bleeding and injury to critical structures, and you gain a more intimate understanding of anatomy," the Houston-based surgeon said.
"But just as importantly, you receive a comprehensive education in managing the care of the patient before, during, and after surgery," he added. "The experience and education that comes from managing thousands of patients during the whole surgical process along with the various related surgical and medical issues related to each stage simply cannot be replaced in a weekend course."
Dr. Patronella noted that physicians in a surgical program are required to observe hundreds of cases before they are permitted to perform surgery, and even once they reach that milestone, they are supervised for years before they complete one on their own. This intensive, long-term supervision and constructive criticism is a critical element of the learning process, said Dr. Patronella, who noted that, without this active critiquing, "You could be performing a procedure in an unskilled way, and you wouldn't know it."
"While some cosmetic plastic surgery procedures may seem straightforward and standard to the casual observer, they are not," Dr. Patronella said. "These procedures require careful evaluation, careful planning, knowledge of the unique considerations for each individual patient, and precise implementation of the plan."
In evaluating and choosing a cosmetic surgery provider, there are certain guidelines individuals can follow to maximize their safety, minimize risks, and ensure the likelihood of obtaining high quality aesthetic results.
One of the most important is to select a surgeon who has met the rigorous educational, training, and professional requirements that demonstrate competency in the specialty of plastic surgery. Two of the most authoritative indicators of this expertise include the following:
Board certification from the American Board of Plastic Surgery (ABPS)
While numerous boards of widely varying standards exist, ABPS is the only board for this specific specialty that is accredited by the American Board of Medical Specialties (ABMS)—an organization that is nationally recognized for its high standards.
Membership in the American Society of Plastic Surgeons (ASPS)
Membership to the prestigious American Society of Plastic Surgeons signifies a surgeon fulfills standards that include:
     Has at least five years of surgical training with a minimum of two years in plastic surgery
     Is trained and experienced in all plastic surgery procedures, including breast, body, face, and reconstruction
     Operates only in accredited medical facilities
Beyond these essential qualifications, Dr. Patronella has written a detailed list of guidelines to help individuals make an informed decision in choosing a cosmetic plastic surgery provider.
Read the full USA Today articles by Jane O'Donnell:
Part One: "Lack of Training Can Be Deadly in Cosmetic Surgery"
Part Two: "Cosmetic Surgery Gets Cheaper, Faster, Scarier"
Dr. Christopher Patronella is a board-certified plastic surgeon and founding partner of The Aesthetic Surgery for Plastic Surgery in Houston, Texas, one of the largest private medical partnerships specializing in cosmetic plastic surgery in Texas. His excellence as a plastic surgeon has led him to receive numerous awards, board appointments, and speaking invitations to surgeons across the globe.
Dr. Patronella received his medical doctor degree from the University of Texas Medical School in Galveston, Texas. Following his internship and surgical residency at the Ochsner Clinic in New Orleans, he completed his plastic surgery fellowship at St. Joseph Hospital in Houston, Texas. He is board certified by The American Board of Plastic Surgery, and holds the prestigious honor of being a Fellow of the American College of Surgeons and a Fellow of the International College of Surgeons.